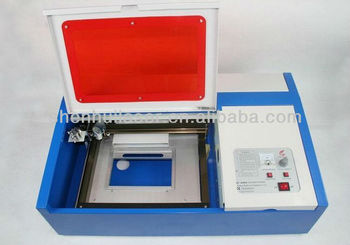 The DC-KIII is a low cost laser cutter/engraver, that come with its fair share of problems, but when they are overcome, it can be a great overall machine
Pros:
Low Cost
Upgradable
Accurate
Quick
Cons:
Inadequate fume extraction
Lacks air assist(I'll get more into it later)
Safety is questionable
Terrible software
First Impressions
I have only had this machine for about a month so take this whole review with a grain of salt. Upon receiving it I was hit by one initial thought, it is HUGE! I'm used to 3D printers where the build area compared to machine size is nearly the same.
While on this the ratio on this is about 1 to 4, mostly because the laser tube is massive. It is about 36 inches long, and about 20 inches wide. The machine comes packed extremely well. There are about 20 layers of bubble wrap surrounding it, with foam inserts on the laser tube itself. After taking off the bubble wrap which took around a quarter an hour because there is so much! I noticed that the tray that the material sits on was bent pretty severely to an amount that couldn't have happened in shipping, it is like someone stood on the metal tray. To get the machine working took about 2-3 hours, which involved installing the pump, fume extractor, setting up software, and testing everything.
1/4 inch plywood cut for heated lunchbox at 7mm/s
I then contacted the company and told them that the bed was bent. They have been fairly frustrating so far, it is as if they have two customer support teams. I say something and I get two different responses, When I first sent the message I got a response in around half an hour that was like "We are so sorry that you are having that problem, we accept full responsibility, we will rush you a new bed and give you a $30 refund" I then responded that that sounded good. I got a message the next day, that said they need additional pictures and to send them to an email outside of Ebay. I have still yet to settle it all out, but they have great ratings, so I have confidence everything will be settled soon.
Using it
If you have been doing any research on this machine you know that the software is horrible. To start engraving anything you just import the picture and push output to machine, 90% of the time it will just work. The other 10% of the time it seems to have a mind of its own, it will go to the top right corner and try to bang the head against the end stops, but they stop it before it hits. To remedy this you have to reboot the computer and unplug the machine. While engraving pictures is a walk in the park, cutting is not... at all. If you are using an .SVG which is an industry standard, you must first convert it to a JPG, then import into the software, while in the software you must trace over it. This whole takes process can take from 10 mins to an hour depending on how complex your model is to trace over. I have tried to use it in my room, but the fumes were to intense for sleeping in, so I moved it to the garage within a month.
Engraving a picture of a car on cork
Output Quality/Usable Materials
You can use tons of materials in this, I have used Cork(Engraves perfectly,cutting is tough), 1/4 inch plywood cuts like a dream after the laser is focused, acrylic is also suburb and very quick.
So far I have made a few coasters, engravings, and I have also made a heated lunchbox, which has required a lot of wood and cutting, but wood is so quick that all of it has taken less than 45 minutes to cut the two prototypes.
Upgrades
To make this machine work really well, you need three major low cost upgrades.
I plan to do a guide on all of these at a later date.
Conclusion
If you are going to get a laser cutter and have a budget under $1000, you are either going to get this one, or not get a laser cutter at all. So, for all of it's faults it is still a great overall machine especially with the added upgrades.